India is a country of culture and tradition. With many historic places, the country improves its beauty. Moreover, you enjoy your holiday in various famous places in India. The heritage sites of different cities of India will give you stunning memories. Besides this, you can explore the sea beach, traditional architects, natural beauties, hill stations, impressive riverbanks, and many other attractive things. The unique holiday designation of India makes it famous in old times. Especially tourists come to explore huge numbers of culture, tradition, and religion In India as the country believes in "Vasudhaiva Kutumbakam". Hence, each tourist also gets respect and hospitality in each city.
Moreover, India aims to spread love and respect with the splendid architecture and beautiful architecture of different cities. Here you get some suggestions of unique places of India for luxury India tours. Let's explore all these below.
10 Famous places of India
This list suggests you top 10 famous places in India, where you get unforgettable memories of the trip. So, let's check out these. 
1. Jaipur, Rajasthan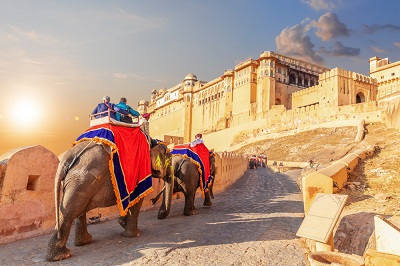 Jaipur city of Rajasthan is full of historical and cultural places. The city's beauty develops through its heritage sites. Moreover, this city is famous among people as Pink city. Jaipur city is completely covered with colorful and vibrant beauties. Besides this, the architecture of each historic place provides a royal feeling to the visitors. The artists of this city show their various creativity through their handcrafts. Additionally, the authentic Rajasthan food flavor delivers a fantastic experience to the tourist. During your India tour, you can explore Amber fort, Hawa Mahal, the city palace, and other attractive places here.
2. South Goa, Goa
With beautiful natural views, South Goa has become a famous place in India for tourists. This place is always covered with lots of tourists. Here, you will enjoy Goa's southern destination and spend quality time with your loved one. Apart from this, this is the best honeymoon designation for couples. The sea beach, soft breeze, and this place's night parties make your holiday more relaxing. The luxurious spas, elegant hotels, and attractive temples will make your journey more exciting.
3. Kodaikanal, Tamil Nadu
One of the famous places in south India is Kodaikanal, Tamil Nadu. This hill town mainly attracts nature lovers. Moreover, the elegant waterfalls and grassy hills will provide you with beautiful memories. Except this, the divine destination Kodaikanal is surrounded by tranquil lakes and valleys. The luxurious hotels of this city also give elegant experiences with fabulous foods. The unique taste of south Indian foods will improve your excitement about visiting this place.
4. Gangtok, Sikkim
Another beautiful spot in India is Gangtok, Sikkim. This place is an excellent combination of traditional and modern luxurious resorts. Along with this, you can explore the hill views of the city, making your tour more exciting. The city's widespread mountains and soft breeze are melting the hearts of every tourist. The vibrant site of this city welcomes many tourists over the year. Primarily the winter morning mists of this city make your tour more beautiful. Another attraction of Gangtok is the tea estate, which gives you unforgettable memories.
5. Puducherry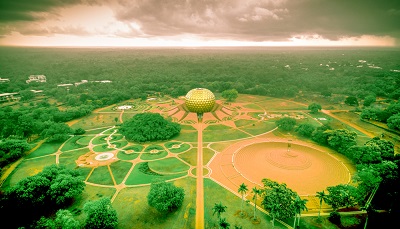 Puducherry is the most famous place in India to feel relaxation and peace. The blooming weather of this city makes the tour plan more enjoyable. The town's beautiful architecture will invite people to explore the untold beauties. This Indian Territory is a suitable place for nature lovers. The luxurious hotels and spas will provide a comfortable tour experience. Besides this, you will explore places like The Basilica of the Sacred Heart of Jesus, Arulmigu Manakula Vinayagar Temple, and Sri Varadaraja Perumal Temple in the lands of Puducherry.
6. Chandigarh, Punjab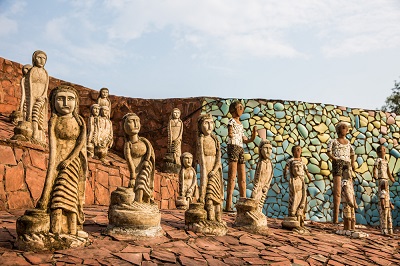 The well-known and famous place in North India is Chandigarh. This city is the capital of Punjab and Haryana. The modern architecture of the city will overwhelm your heart. This is one of the most acceptable cities of India where you can visit many luxurious hotels. With unique north Indian dishes, the city's restaurants will provide you with incredible memories. Except for this, you will also see the gateway of the different luxurious spas here.
7. Kumarakom, Kerala
The calm and soothing beauty of Kumarakom is different from other famous places in India. The backwater village of Kumarakom will give you a fantastic experience of visiting this place. Moreover, the luxurious resorts of this city will match your expectations. With comfortable rooms, beautiful views, and authentic south Indian foods, each resort of Kumarakom makes your trip more exciting. Moreover, the peaceful and calm environment of this place will rejuvenate your soul.
8. Darjeeling, West Bengal
The majestic tea garden city Darjeeling is one of the famous places to visit in India. The beautiful hill stations with green hills will develop the place's beauty. By the way, it is one of the amazing places for newly married couples to spend their holiday tour. Moreover, the narrow roads, beautiful trains, and British architecture buildings will make your tour stunning. Moreover, you will comfortably spend six to ten days of holiday in the splendid hotels with amazing hill views.
9. Srinagar, Jammu, and Kashmir
The heavenly beauty of Srinagar welcomes many tourists over the year. The elegant views of the place overwhelmed the heart of each tourist during the trip. Besides this, the nearby attractions of Srinagar make the place more attractive and famous. The charming gardens of this place provide beautiful memories to the visitors. Moreover, vast numbers of couples visit this place every year to explore the splendid beauty of nature. Your luxury India trip must add this famous place to see its stunning sites.
10. Mumbai, Maharashtra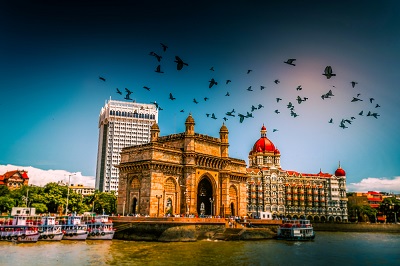 The dream city of Mumbai is the most attractive and famous place in India. Moreover, your luxurious India tour will not be complete without exploring Bollywood city. You will explore the beach of the Arabian Sea and enjoy the unique street foods of Mumbai. Besides this, the beautiful weather of Mumbai will give you a fantastic tour experience. Additionally, you will get the chance to meet your favorite Bollywood star. Further, the modern architect of this city provides you with a luxurious feeling.
Conclusion
So, all these above famous places of India make your India tour more beautiful. You can explore all the places with a stunning tour guide and travelers LIH. With excellent offers, and high-quality service, exploring each city of India is easy. So book your luxury tour with LIH today, to explore the beautiful and luxurious destinations.