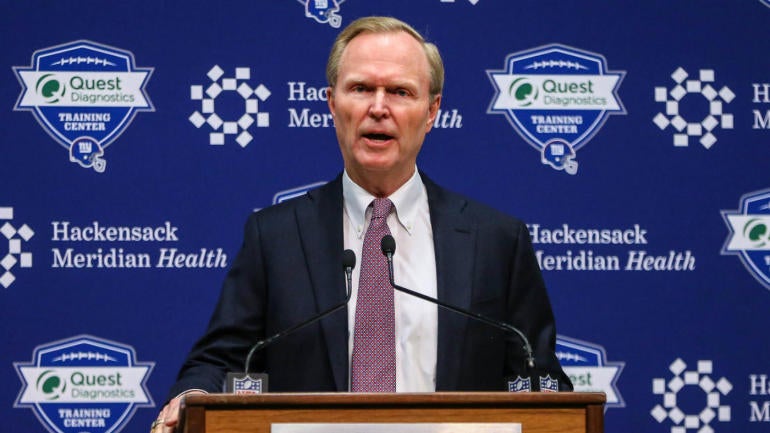 USATSI
The New York Giants are in the final stages of their search for a new general manager. CBS Sports NFL Insider Jason La Canfora reported on Thursday night that there is a strong expectation that the Giants will offer their GM job on Friday, with the team's coaching search expected to ramp up quickly after they do so. 
La Canfora's reported was echoed Friday morning by ESPN and the New York Daily News, each of which indicated that there are three finalists for the job: Buffalo Bills assistant GM Joe Schoen, Kansas City Chiefs executive director of player personnel Ryan Poles, and San Francisco 49ers assistant GM Adam Peters. 
Those three are the only known candidates to have interviewed for the job twice. According to the Daily News, Schoen and Poles interviewed via Zoom last week and then in person on Tuesday and Wednesday of this week, while Peters interviewed via Zoom on Monday and then in person on Thursday.
The Giants have already made it clear that the team's next GM will lead the search for deposed head coach Joe Judge's replacement. Each of Schoen, Poles, and Peters' teams are still in the playoffs at the moment, and several head-coaching candidates remain in the playoffs as well. With the rise of Zoom interviews, however, more and more assistants have been able to take interviews while remaining with their current team to prepare for postseason games. 
How the search unfolds will likely depend on whom the Giants choose as general manager. While it's obviously no guarantee that any of the GM candidates would bring along a coach from their organization with them, it's notable that the Bills (offensive coordinator Brian Daboll), Chiefs (offensive coordinator Eric Bieniemy), and 49ers (offensive coordinator Mike McDaniel and defensive coordinator DeMeco Ryans) all have assistants who have generated buzz as head-coaching candidates this offseason. It would therefore not be surprising if the Giants ended up with one of those coaches in place.