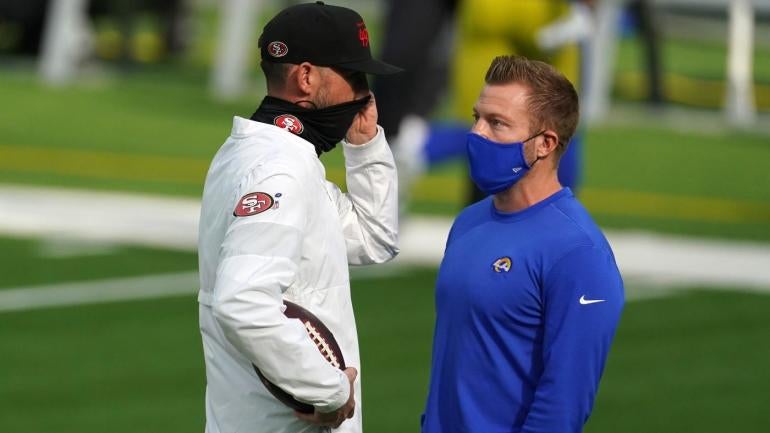 Kirby Lee/USA TODAY Sports
Once upon a time, Sean McVay, Kyle Shanahan, and Matt LaFleur were working together on the same coaching staff — long before the three young minds were taking their teams deep into the NFL playoffs nearly every year. McVay, Shanahan, and LaFleur — head coaches for the Rams, 49ers and Packers in this weekend's divisional round — were assistant coaches on Mike Shanahan's staff back in 2013 with Washington Football Team, a franchise that failed to win four games that season. 
The 2013 Washington team finished 3-13, despite that collection of talent on the coaching staff, in what was Mike Shanahan's final season as a head coach in the NFL. Kyle Shanahan was the offensive coordinator of the team while Matt LaFleur was the quarterbacks coach and Sean McVay was coaching the tight ends. Shanahan was 34 at the time while LaFleur was 33 and McVay was 27. 
After that 2013 season, Jay Gruden was hired as head coach and promoted McVay to offensive coordinator. LaFleur moved on to become the offensive coordinator for Notre Dame while Shanahan became the offensive coordinator of the Cleveland Browns. Shanahan and LaFleur reunited with the Atlanta Falcons in 2015 (Shanahan as the offensive coordinator and LaFleur as the quarterbacks coach), helping Atlanta advance to Super Bowl LI in the 2016 season. 
When McVay was hired by the Los Angeles Rams as the head coach in 2017, he brought LaFleur with him as the offensive coordinator. LaFleur spent a year as the Tennessee Titans offensive coordinator in 2018 before being hired as head coach of the Green Bay Packers in 2019. 
LaFleur, Shanahan, and McVay are a combined 133-78 as head coaches with McVay leading the Rams to Super Bowl LIII and Shanahan taking the 49ers to Super Bowl LIV. LaFleur has taken the Packers to consecutive NFC Championship Games in his first two seasons and has an excellent shot at taking Green Bay to Super Bowl LVI. 
Jay Gruden was 35-49-1 in his six years with Washington, winning one NFC East title and only making one playoff appearance (losing the playoff game). 
What could have been in Washington? We'll never know, but the Rams, Packers and 49ers are certainly glad the three coaches they had in 2013 moved on.