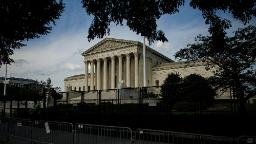 "I believe in an America where the separation of church and state is absolute," the candidate
told a meeting
of Protestant ministers in Houston. "I do not speak for my church on public matters, and the church does not speak for me."
Because the US Supreme Court's
current six-person majority
(John Roberts, Clarence Thomas, Samuel Alito, Neil Gorsuch, Brett Kavanaugh, and Amy Coney Barrett), all with conservative Catholic backgrounds,
have expressed interest
in historical bases for judicial decisions, it's worth noting that Kennedy's assertions not only preserved his political viability but reflected Jeffersonian ideals firmly embedded in our two-centuries-old constitutional cosmos.
The court's ruling this week in
Kennedy v. Bremerton School District
ignores our founding values and eschews decades of its own precedents that enshrined them. Gorsuch's majority opinion, joined by his five fellow conservatives, ruled that Kennedy, a football coach at a Bremerton, Washington, public school has First Amendment freedom of speech and religion rights to kneel and pray at the 50-yard line after games, surrounded by players and spectators. Allowing him to do so doesn't violate the Constitution's ban on state establishment of religion, according to the nation's highest court.
The First Amendment's clauses guaranteeing free exercise of religion and prohibiting government's establishment thereof have been on a collision course since they entered the US Constitution in 1791. Simply put, does government allowance of religion in the public square constitute establishing it? To unravel this conundrum, Supreme Court justices have taken three different approaches:
The late Justice Antonin Scalia, a leading advocate of religious accommodation, argued in 1994, "Once this Court has abandoned text and history as guides, nothing prevents it from calling religious toleration the establishment of religion." Accommodationists now represent a half-dozen votes on the current Supreme Court.
Brick by brick, if not by bulldozer, the wall between religion and government is collapsing. Does it matter? It does if the United States still wants not only to protect religion from government but government from religion.
As the founders feared, when religious faith becomes the guiding force in politics, the historic American experiment in creating a pluralistic republic is most at risk. Allowing the utmost religious freedom, within the bounds of high walls between church and state, has spared the US from the kinds of religious wars that have plagued human history and riled modern nations.
President Kennedy's devotion to the Jeffersonian principle of separating religion and government to promote religious freedom has proven more salutary to the American regime than will be the desire to accommodate Coach Kennedy's prayer spectacle at public school football games.