Samsung's Galaxy Book lineup continues to grow and evolve as the smartphone giant integrates its own software suite into Windows. The Galaxy Book 2 Pro 360 is the latest high-end 2-in-1 laptop to join Samsung's lineup, and it's got a lot going right for it.
The Galaxy Book 2 Pro 360 is loaded with Samsung software (for better or worse) and delivers on the promise of strong performance and long battery life. Wondering if this premium laptop is for you? Here's what I think after testing it for the last week.
A versatile and powerful 2-in-1 laptop
The Samsung Galaxy Book 2 Pro 360 delivers strong performance and battery life within a slim 2-in-1 package that's especially ideal for those with other Galaxy devices.
The who, what and how

Who it's for: The Samsung Galaxy Book 2 Pro 360 is a 2-in-1 laptop designed for students or someone who is always on the go. Samsung has a heavy hand when it comes to preinstalled software, but this also adds value for those who own Galaxy phones or tablets, creating an ecosystem on the backs of Android and Windows.
What you need to know: The Book 2 Pro 360 is a 2-in-1 laptop with a touchscreen and stylus support in a lightweight and impressively thin design. You can fold the display around to use the Book 2 Pro 360 as a tablet, or prop it up in tent mode to watch videos while you're relaxing. It combines long battery life with strong performance, and while it's not built for intense gaming, it can handle some lightweight titles when you need a break from work.
How it compares: Samsung's Galaxy Book 2 Pro 360 is the premium 2-in-1 model in the company's latest lineup when it comes to performance and cost. The Galaxy Book 2 360 starts at a cheaper $899, but with a slower processor and a smaller display another 2-in-1. The Galaxy Book 2 Pro is a more traditional laptop, with similar configuration options and a price tag that starts at $1,049. Apple's MacBook Pro starts at $1,299 for a 13-inch model, but lacks a touchscreen or stylus support. Microsoft's Surface Pro 8 is our best laptop pick for a 2-in-1, but it also comes at a cost. With a starting price of $1,099, you get a slower computer, and still need to purchase a keyboard and a stylus.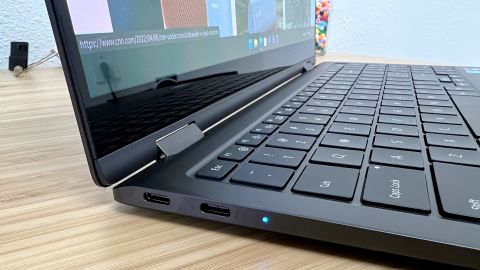 Jason Cipriani/CNN
The first thing I noticed after taking the Book 2 Pro 360 out of the box is just how thin and light it is for a laptop with a 15.6-inch display. I actually had to double-check the screen size on the side of the box to make sure it wasn't the 13-inch model. When folded shut, the Book 2 Pro 360 is just 11.7 millimeters thin. That's only slightly thicker than Samsung's Galaxy S22 Ultra smartphone. The Dell XPS 13 is 14.8 millimeters thick, and Apple's 14-inch MacBook Pro comes in at 15.5 millimeters. I can't overstate how thin the Book 2 Pro 360 is by comparison.
Samsung lists the weight of the Book 2 Pro 360 at roughly 2.45 pounds. At this size, I'd have no hesitation toting this laptop around a school campus in a backpack, or taking it with me on business trips.
Despite its small stature, the Book 2 Pro 360 has a few modern ports for connecting accessories and other devices to it. On the right side of the deck is a microSD card reader, a USB-C port and a headphone audio jack. On the opposite side is another USB-C port, and a Thunderbolt 4 port (that looks identical to the USB-C port, save for the Thunderbolt icon next to it). There's also a small LED indicator light that shows when the laptop is charging, which can be done by connecting a USB-C cable to any of the three ports.
The idea of losing out on any USB-A ports can cause a hint of panic, but it's easily remedied, at least for me, by using a cheap USB-C hub when I'm at my desk, like this 7-in-1 Anker USB-C hub, or by using a USB-C to USB-A adapter. However, as time has passed during the transition to USB-C over the last few years, more and more of the peripherals I connect to my computer have moved over to USB-C as well.
Jason Cipriani/CNN
Upon opening the lid of the Book 2 Pro 360, you're immediately greeted with the Samsung logo on the 15.6-inch Super AMOLED display. That's the same kind of display Samsung uses in its smartphones, translating into a picture with better color reproduction, deeper blacks and improved battery life compared to the more commonly used LED display tech. The display is standard 1920 x 1080, which is a slight disappointment compared to some higher-resolution laptop screens you can get at this price.
But the Super AMOLED display does make up for the lack of a higher resolution, as it looks downright fantastic. At one point during my testing, I was using the Book 2 Pro 360 connected to an external 4K monitor, and even though the picture on the higher-resolution display should have looked better, I found myself moving windows back to the laptop's display because it had a better look to it. It didn't matter if I was watching a Twitch stream of TimTheTatMan playing Call of Duty: Warzone, or if I was looking through a slideshow on iFixit's website of the new Apple Studio display – colors were more saturated and brighter.
Jason Cipriani/CNN
You can use the S Pen stylus that comes in the box to tap on buttons, and draw or jot down notes. The hinges on the Book 2 Pro 360 allow the display to fold all the way around, nearly 360-degrees, to convert the laptop into a tablet-like device, which is handy for when you want to use the S Pen. The S Pen is comfortable to write with, sliding across the screen without any friction. It doesn't feel quite as good as an Apple Pencil on an iPad, but it's close.
If you're an avid S Pen user, you might be disappointed in the fact that the S Pen on the Book 2 Pro 360 lacks Bluetooth for more advanced features like Air Actions. You still have access to Air Commands by pressing the lone button on the S Pen with the tip of the pen hovering over the screen. A menu will slide out on the right edge of the display, giving you access to tools like Samsung Notes and Samsung's screenshot tool.
Above the display is a 1080p webcam that uses some software tricks to keep your face framed in the shot as you move around during video calls. The camera looks good, not great, which is par for the course with pretty much any laptop webcam. Thankfully, it's a step up from the 720p camera found on last year's Galaxy Book Pro 360.
Jason Cipriani/CNN
There's a full-size chiclet-style keyboard on the bottom housing, along with a very small number pad on the right side. The keyboard was comfortable, but took a few days to get used to because the keys are so thin and require very little pressure to register a keypress. Touch-typists will love it, everyone else will need to adjust.
Just above the number pad is the power button that doubles as a fingerprints sensor that you can use to sign into your Windows account and unlock compatible apps. Below the keyboard is a touchpad that's smooth and easy to use with multi-finger gestures or to select items.
I've been testing the graphite color option, but Samsung also makes the Book 2 Pro 360 in silver and burgundy. The graphite color is alright, but nothing special. I would have loved to see burgundy in person.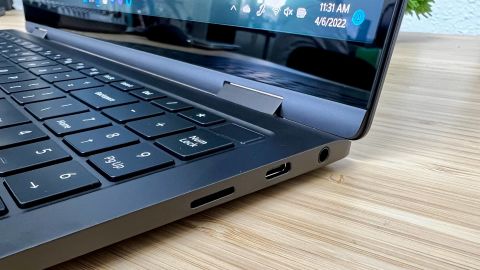 Jason Cipriani/CNN
Long battery life in a laptop this thin isn't something I had high hopes for, but I was pleasantly surprised. Samsung touts 21 hours of potential battery life in its own testing, but as is usually the case, real-world testing doesn't live up to those expectations.
When playing a 4K video on repeat, the Galaxy Book 2 Pro 360 lasted 11 hours and 11 minutes before powering off. Despite not hitting Samsung's 21-hour mark, that's still an impressively long battery life with only Apple's MacBook line having beat that mark in our testing.
| | Processor | Geekbench 5 (multi-core performance) | Geekbench 5 (OpenCL) | Battery life (hours:minutes) |
| --- | --- | --- | --- | --- |
| Galaxy Book 2 Pro 360 | 12th Gen Intel Core i7 | 9,178 | 19,906 | 11:11 |
| Galaxy Book Pro 360 | 11th Gen Intel Core i7 | 5,509 | N/A | 11:20 |
| Microsoft Surface Pro 8 | 11th Gen Intel Core i7 | 5,327 | 19,649 | 7:05 |
| MacBook Pro (14-inch) | Apple M1 Pro | 12,463 | 36,326 | 6:36 |
Inside the Book 2 Pro 360 is Intel's 12th Gen Core i7 processor that was able to keep up with whatever task I threw at it. From editing photos in GIMP or streaming YouTube and Twitch videos to writing long-winded emails and keeping tabs on Slack — the daily tasks we've all come to expect from a computer were handled with ease.
CNN Underscored's standard set of benchmark tests that are run on every review laptop or computer back that up, too. With a multi-core score of 9,178 from Geekbench 5, the Galaxy Book 2 Pro 360 outperforms last year's Galaxy Book Pro 360 (5,509), and Microsoft's Surface Laptop Studio (5,108) by a significant margin. However, it fell short of the 14-inch MacBook Pro's score of 12,463.
If you need a laptop that's powerful enough to handle occasional photo editing and some video editing, all with a battery life that can get through a full day of use, then the Book 2 Pro 360 offers the right combination.
Jason Cipriani/CNN
As Samsung continues its push into computers with its Galaxy Book line, the company continues to add more of its own apps and services to Windows. It's the same approach Samsung has used on its Android phone lineup.
That means you'll find several Samsung apps like Bixby, Smart Switch (for transferring information from your previous Windows computer), Live Message, Live Wallpaper… and the list goes on. In total, I counted 34 different apps that were preinstalled by Samsung. That's a lot of apps, and most of them, I'd wager, are something most people won't ever open or use.
That said, there are some apps that make sense and add utility, such as Smart Switch, or Samsung Notes and Gallery to keep your information and photos synced with your Galaxy phone. The Quick Share app is another example of adding a feature to Windows that should already be there. Like Apple's AirDrop, this feature allows you to instantly send files between a Galaxy smartphone and a Galaxy Book using a direct Wi-Fi connection, which saves you some time over using email or a messaging app.
Also preinstalled is McAfee LiveSafe antivirus software, which is akin to bloatware. It has nagged me several times during my testing to sign up for a subscription. Thankfully it can be removed with just a few clicks.
There are several different configurations available based on screen size, storage and memory options. You can get the Galaxy Book 2 Pro 360 in a few different configurations.
Pricing starts at $1,249 for the 13.3-inch model with an Intel Core i7 processor, 256GB of storage and 8GB of memory. You can get 16GB of memory and 512GB of storage for $1,449. The base model is perfect for a student who just needs a computer for routine classwork while doubling the memory and storage is worth the investment for someone who is going to be editing videos or photos.
I've been testing the 15.6-inch model that costs $1,549 and comes with an Intel Core i7 processor, 1TB of storage and 16GB of memory. The price drops down to $1,349 for cutting the storage and memory in half Either of the 15.6-inch models are ideal for someone who spends a lot of time in documents or editing photos, both due to the boosted specs, but also thanks to the larger screen.
If you're an avid Samsung user with a Galaxy phone or tablet, it makes sense to look within Samsung's product lineup for Galaxy-friendly devices. The Galaxy Book 2 Pro 360 delivers on the promise of playing nicely with Windows 11 and Samsung's own software. It's a powerful 2-in-1 laptop with long battery life at an attractive price tag.
Even though it can be a more expensive setup, I'm more inclined to lean towards the Surface Pro 8 when it comes to a 2-in-1 laptop because of the design. With a Surface Pro 8, you can remove the keyboard when you need a tablet.
However, the Samsung Galaxy Book 2 Pro 360 is a well-rounded laptop for Samsung users and even non-Samsung users alike.