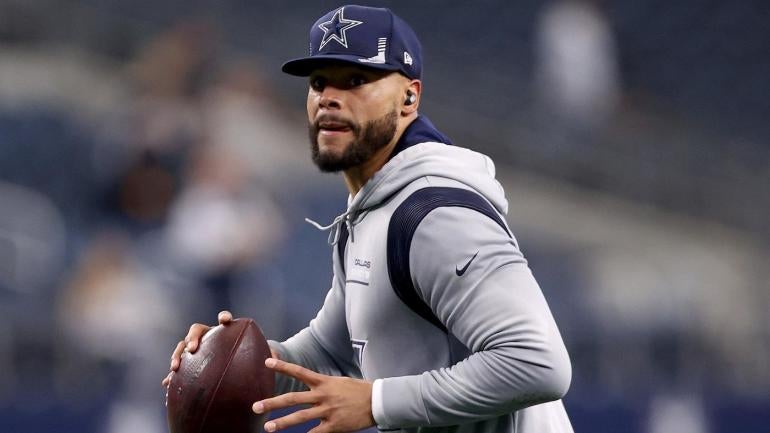 Getty Images
After the Dallas Cowboys were upset in an NFC Wild Card loss to the San Francisco 49ers, much of the fallout from the game came as a result of quarterback Dak Prescott's post-game press conference and his condoning of fans who threw trash at referees. Prescott later apologized for those comments. What flew under the radar in that press conference was that there was a "reporter" present who wasn't supposed to be there — even if he played the part well.
On Thursday, it came to light that a fan — TikTok user finessefave — snuck into Dak Prescott's post-game press conference and asked him questions while posing as a member of the media. In a video posted to TikTok, finessefave chronicled how he and his group snuck into the stadium and gained access to the field level and inner bowels of the stadium while wearing NFL Media vests.
Finessefave's adventure eventually brought him to the post-game press conference room, where he ended up asking Prescott a pair of questions — one about whether Prescott should have looked for the referees to get to the ball after his ill-fated run up the middle with seconds remaining and no timeouts, and another about how the Cowboys were able to get back in the game after being down 23-7 midway through the third quarter.
While the fan and TikTok user's actions likely won't be regarded kindly by NFL security or by the Cowboys' media staff, he was able to pass for a reporter reasonably well and extract some decent quotes from Prescott.
"Offense wasn't doing well, wasn't doing enough. The defense stepped up and made a play (and) got some momentum going," Prescott said, alluding to an interception by Anthony Brown that allowed the Cowboys to score a fourth quarter touchdown to make it a one-score game," Prescott said about battling back from the 16-point deficit. "And once that happened we were able to get a score and get within six, and we just weren't able to capitalize when we needed to."
While the staff of AT&T Stadium will have a whole offseason to now assess their operations, the TikTok user and others seemingly exposed a gaping hole in the facility's security apparatus this past Sunday: In a reply to Jon Machota of The Athletic, Twitter user and Cowboys fan Stephen Betancourt shared that he and a drunk friend snuck downstairs and were able to get into a limousine waiting to pick up players.